The Pensioners Association in Slovakia (JDS) was set up in 1990. Under the Act no. 83/1990.
It is a civil association. It is an independent, separate legal entity. Only the public authorities may intervene within the law, to its status and functioning. The Pensioners Association connects the elderly citizens - retirees without distinction of nationality, political affiliation, religion or social origin.
The Pensioners Association (JDS) in Volkovce was founded in 2003. At its foundation, the JDS had 21 members. Currently, the JDS has 95 members.
The JDS Volkovce committee
| | |
| --- | --- |
| President: | Estera Vavrová |
| Vice-president: | Mária Nízlová |
| Secretary: | Mgr. Mária Lackovičová |
| Treasurer: | Anna Obertová |
| Coordinator of cultural activities: | Jozef Holečka |
| Committee members: | Mária Švecová |
| | Anna Vranová |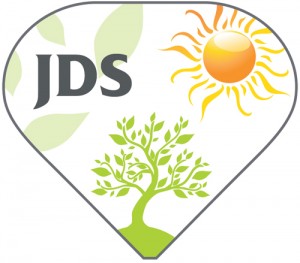 LITTLE PARK – A PLACE FOR ALL
On 26 November 2011 a final evaluation of the project "The little park – a place for all" took place in the community hall Volkovce. It was attended by representatives of all the sponsors and also representatives of Ekopolis foundation. It was a unique project aimed at revitalising of derelict and neglected public spaces in the village Volkovce street Parková.Public Spaces Program called PrieStory in Slovak was (launched in 2005) as a brand new concept in Slovakia by the Ekopolis Foundation. The seniors managed to get 5000 euros from the grant PrieStory to execute this project. With these funds, as well as the help of sponsors, the pensioner managed to restore a small park, treated trees,cleared the overgrowth in parts of the park where rubbish was beginning to accumulate. They also created seating areas and play areas for toddlers as well as built a brand new footbridge over a stream. During the project, the pensioners organized 15 days of voluntary work for gardening and odd jobs.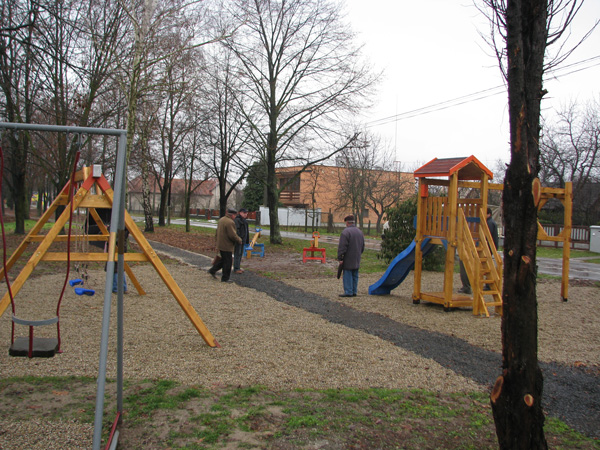 A little park on Ľ. Štúra street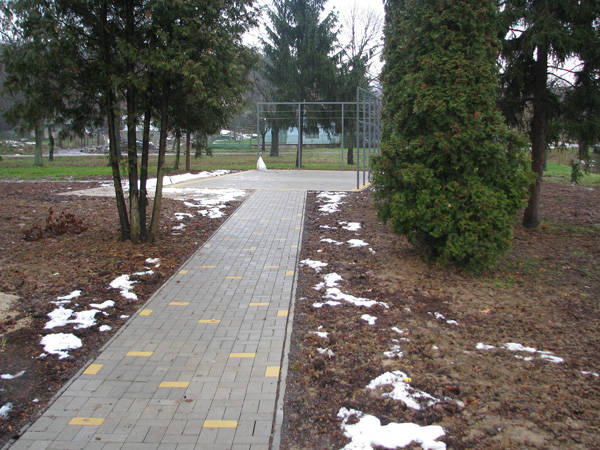 A little park on Ľ. Štúra street
MEETING OF JDS MEMBERS
It has become a tradition that twice per year the members of Pensioners Association in Volkovce meet in the community center in Volkovce to celebrate its members and other events that may have happened during the period. It's always a very pleasant atmosphere with music, where members congratulate those who celebrated their birthdays and enjoy a short program usually performed by the local Folk Group.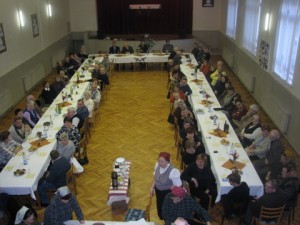 FOLK GROUP VOLKOVČANKA
The folk group Volkovčanka was established by our pensioners in 2009. Its leader and manager is Mr. Jozef Holečka. Even though the group was established only a few years ago, it is preforms short program, not only at the meetings of JDS Members, but it also performs at various other events, such as exhibitions of singing groups in Žitavany on 13 August 2011, or at a meeting of the regional association of municipalities Širočina on 11th September 2011 at Tekovské Nemce.
To find out more information about the folk group VOLKOVČANKA, go to their website www.fsvolkovcanka.sk (in Slovak language only)