The Folk group 'Volkovčanka' originally started as part of JDS (Pensioners' Union of Slovakia) in Volkovce. Their repertoire consists mainly of local songs, but also folk songs from the wider region. The group also performs short sketches demonstrating older trades and traditions (e.g. spin work, feather plucking, Shrovetide, Christmas etc.)  for the benefit of  future generations. They have been performing since 2007.
The Folk group 'Volkovčanka' have performed on various stages, such as Agrokomplex in Nitra, Sečovská Polianka in the eastern part of Slovakia as part of a twinned project, Velká Bystřice in the Moravia Region of Czech Republic as part of twinning project of micro-regions Požitavie-Širočina (SK) and Haná (CZ) and also the annual markets in Galanta.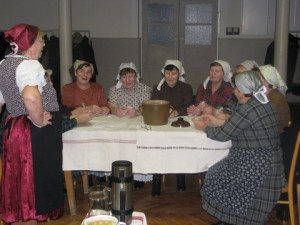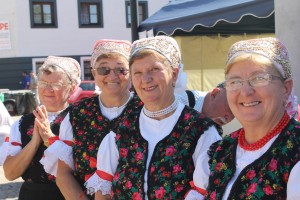 The group performs in traditional costumes native to our region. The women's costume is called "kašmírka" and consists of: black cashmere skirts and vests (with a flower pattern), white linen (short-sleeved) under-shirt tied with red ribbons, a black apron and bonnet decorated with various coloured glass beads. The men wear black trousers, a white shirt, decorated with a colourful ribbon, black embroidered waistcoat and a black hat also with a colourful ribbon.
In 2014, a Folk and Music Festival was organised in Volkovce for the first time. It is hoped that this festival will be repeated for the purpose of growing our audience as well as increasing the number of performers.

The group is currently formed of 10 women, 5 men and an accordion player.
Find out more on our website www.fsvolkovcanka.sk (in Slovak language only)